Escape the Junk Food Jungle.
The snack world can be a real Junk food Jungle with sneaky ingredients camouflaged as sweet and harmless. At TigerMamas, there's nothing hidden. We make craveable cookies from nature's most nutritious ingredients sourced from 100% whole foods—and our superfood hero—the Tigernut!

What is a TigerNut?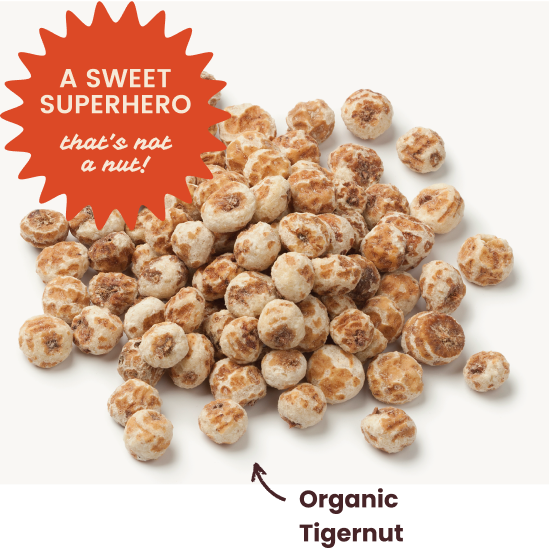 Well, it's NOT a nut.
Tigernut is a small root vegetable that grows in Northern Africa and the Mediterranean and is used globally as a sustainable gluten-free flour alternative.
When ground, tigernut flour acts like almond flour—adding moisture, chewiness, and an earthier, sweeter taste similar to pecans. It's natural sweetness means cutting down on sugar in recipes.
With this deliciously sweet subtle flavor and amazing macronutrients, it's the perfect sweet superhero that kicks our cookies from yum—to—craveworthy!
Tigernut Cookies VS Regular Cookies
Cookies made with TIGERNUT FLOUR

Cookies made with REGULAR FLOUR

Cookies made with TIGERNUT FLOUR
Cookies made with REGULAR FLOUR
Thanks For Sharing!
The ONLY cookie I can keep in the house without feeling guilty or overeating. It's perfect chewy texture and I love that the tigernut root adds a hint of malty flavor.
Imagine the bestest warmest chocolatiest cookie. Now imagine it dunked in chocolate milk.
These are seriously the best chocolate chip cookies I've found—and they aren't full of a bunch of toxic additives.
*Reviewers received free product in exchange for their thoughts.